Many people don't know where to start when it comes to selling their home. However, I am here to guide you through it.  Whether you are selling your first home, or you are a seasoned seller, it's always good to familiarize yourself with the process.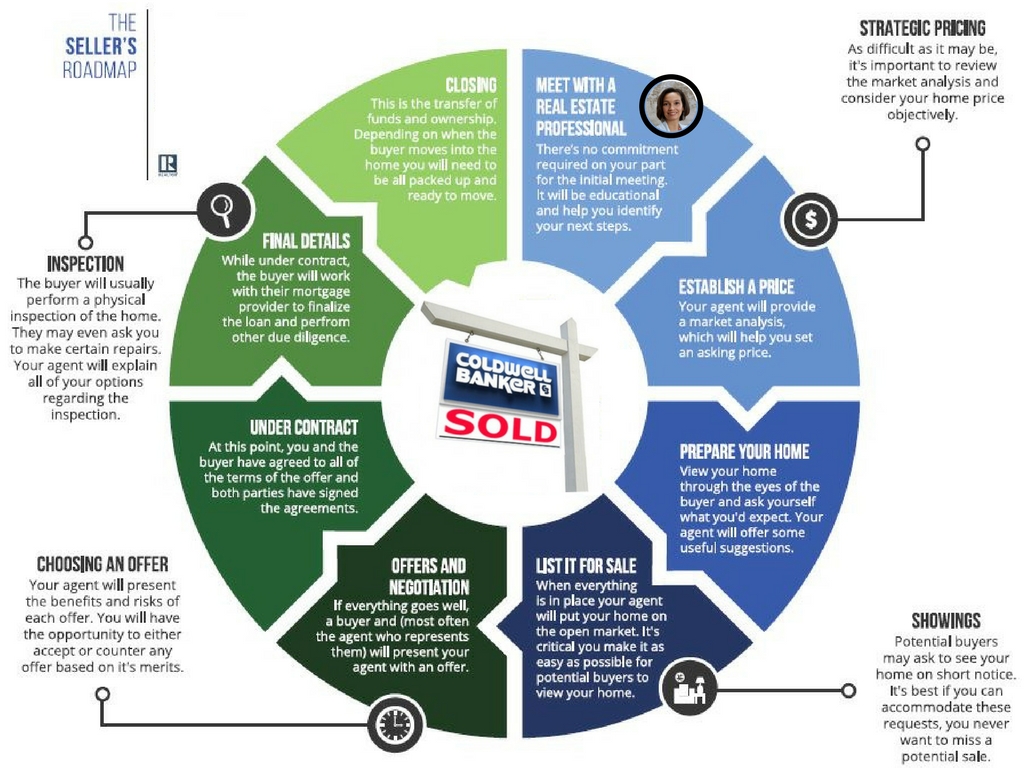 1) 
Choose a Listing Agent.
 A listing agent will represent you and have a fiduciary responsible for looking out for your best interests. Your agent should listen to your needs and understand the market in which you are selling a home. They should be experts in marketing, negotiation, transaction forms, and finance options, as well as have an understanding of technology and how it can enhance the marketing of your home. Ask questions about your listing agreement, including the length of time the home will be listed, and how they will market your home, ask who the targeted buyers are for your neighborhood. This is also a good time to gather all of the paperwork that you will need to expedite the closing once you have an acceptable offer. Your agent can provide you with a list. In addition, you may want to begin the process of selecting a real estate attorney or title company to represent you once you have an accepted offer. If needed, your agent can provide you with a list of local attorneys who specialize in real estate. 2) 
Establish a Selling Price.
 Determining the right price is the 
most important
 part of achieving the highest return in the least amount of time. A seller's biggest mistake is to overprice a home. There are many factors that affect the list price of a home: location, condition, amenities, supply and demand, as well as local and global market conditions. Your agent can provide a thorough market analysis of your home so you will be able to come up with a realistic, competitive pricing strategy. Price your home in line with sold homes identified in a comparative market analysis report provided by your real estate agent. Get a preliminary estimate of 
how much your home is worth
.  Keep in mind this is an estimate, the true value requires detailed knowledge of the 
market conditions for your area
 and evaluation of the comparative market analysis report. 3) 
Prepare Your Home.
 Prepare your home for sale by cleaning, decluttering and improving curb appeal. Hire a professional stager to stage your home, or ask your real estate agent for help with staging. Sometimes you can use your own furniture. Make repairs before selling. Protect your privacy while your home is on the market. If you're selling a home where pets live, make alternate plans for your pets. Follow this room by room 
selling preparation guide
 to get your home ready! 4) 
List Your Home for Sale.
 Today, the vast majority of homebuyers use the internet in their home search, so your marketing plan should include focused online activities. Your agent or you should saturate the Internet with photographs and descriptions of your home. Showings are an inconvenient, yet necessary part of the home selling process. When your home is on the market it has the potential to be shown at any time, so it's important to maintain a certain level of cleanliness; clear dishes from the sink, make beds, put away dirty laundry, and vacuum and dust regularly. It's also a good idea to clear out; it makes buyers uncomfortable to tour a home when the owners are in the next room, so for the sake of your sale, vacate your home for showings. Ask for buyer feedback so you can adjust your price, condition or marketing campaigns accordingly. 5) 
Receive Purchase Offers and Negotiate.
 Even if you receive a lowball offer, negotiate by issuing a counter offer. Don't ignore offers. Keep an open mind when looking at offers. If your home is priced right, prepare yourself for multiple offers. Once an offer on a property has been made by a buyer and accepted by the seller, they enter into a legal contract known as a Purchase Agreement. This document outlines the specific terms and conditions of the transaction and is acknowledged by both parties by the signing of the document. 6) 
Under Contract. 
 Your agent or transaction coordinator will open escrow and order a title policy. Be ready for appointment from the buyer's team.  Clean the house the day before the appraiser arrives. You are not entitled to receive a copy of the appraisal because you did not pay for it. Banks typically do not approve a price higher than the appraisal. 7) 
Final Details.  
Get ready for the home inspector. Ask your agent to provide you with a home inspection checklist so you will know which items an inspector will want to see. Prepare the attic and basement for inspection, too. Move stuff away from the walls in the garage. Sellers can negotiate a buyer's request for repair; however, buyers can also cancel the contract. You are entitled to a copy of the home inspection report if the buyers request repairs. If you do not choose to make repairs, a buyer might instead accept a closing cost credit.  In addition, you may need to plan for pest inspectors, septic and well inspections, and plan on having contractors for repairs.  I keep a 
list of potential vendors
 for when you need a contractor.  All homes in the United States are subject to lead-based paint disclosures, not just those built before 1978. If you are aware of material facts, disclose them. 8) 
Closing. 
At closing, all the paperwork is signed by the buyer and seller, both parties pay any settlement fees and the documents are officially recorded. Prior to closing, you'll receive a settlement statement outlining any fees which may apply to you. Your title company should provide CC&Rs, but if you belong to a homeowner association, additional documentation will be required. Sellers can sign documents the day of closing or in some cases a day early. Bring a valid picture identification. Your property deed, reconveyance, and deed of trust will record in the public records. The title company will notify you and your agent when it records the deeds. Depending on buyer's possession rights specified in the contract, you may be required to move on the day the home closes or prior.  Remember the buyer will do a final walk through the week before closing or even the day of closing.
Get started searching the Greater Fredericksburg Area for your next home by filling in your search criteria on my search page.
If you have a home you need to sell, get a free value estimate.